Innsbruck Airport Arrivals (INN)
Not all flights may be showing. If not available use search above to find your flight by airline, airport or flight number.
Origin
Airline
Flight no.
Scheduled
Est./Actual
Status
Rhodes (RHO)
Eurowings
EW5637
12:30
Scheduled
Vienna (VIE)
Austrian Airlines
OS905 expand_more(1)
01:10
Scheduled
Vienna (VIE)
Lufthansa
LH6352
01:10
Scheduled
Frankfurt (FRA)
Air Dolomiti
EN8052 expand_more(1)
01:55
Scheduled
Frankfurt (FRA)
Lufthansa
LH6914
01:55
Scheduled
No flight arrivals were found at Innsbruck Airport.
Flight Arrivals at Innsbruck Airport
Innsbruck Airport was completed in 1925 and has since served seasonal international flights to further European destinations as well as several regional flights around the Alps. During the winter season, the airport activity increases because of the high number of ski enthusiasts that travel to the area. In 2018, Innsbruck Airport served over 1,100,000 passengers. The passenger numbers are still increasing year by year.
Innsbruck Airport Ground Transportation
Innsbruck Airport is located approximately 2.5 miles/4 km from the City Center of Innsbruck in Austria.
Passengers that are going to and from Innsbruck Airport can find easy and comfortable transfer possibilities, including:
Innsbruck Airport is placed at the heart of the Alps in Austria and it is easily accessed because of the central location. The airport is well connected to the motorway.
The address of Innsbruck Airport can be found below:
Innsbruck Airport
Fürstenweg 180
6020 Innsbruck
Austria
If you have any questions or concerns you can contact Innsbruck Airport by telephone on +43 512 22 52 50.
Drop-off and pick-up of passengers at Innsbruck Airport
All guests at INN Airport can use any of the airport's designated parking areas when picking up or dropping off passengers. The parking spaces at Innsbruck Airport can help save you time if you are going to pick up or drop off a passenger.
Travelers can use either the short-stay or the long-stay parking areas. No matter what parking space you choose, it is only a short walk to the passenger terminal building. For the first 0-20 minutes, parking is free of charge at any parking space at the airport. All guests can pay by credit or debit card in the automated payment machine.

If you have any questions or concerns, you can contact the airport staff at INN Airport on telephone number: +43 512 225 25 179 or by e-mail at parking@innsbruck-airport.com.
Innsbruck Airport - Special Need Services
It is easy for travelers with disabilities or reduced mobility (PRM) to get around Innsbruck Airport. You can find designated parking areas close to the passenger terminal. Furthermore, the airport provides elevators and sanitary facilities that are customized to meet the requirements of passengers with special needs.
All travelers can find the assigned staff at the airport ready to assist you if you have reduced mobility. However, please make sure that you make a relevant request at least 48 hours prior to the departure of your flight. For more information, please visit the website here.
Was your flight delayed or cancelled?
You may be eligible to receive up to 600 EUR compensation per person in your party..
Claim Now!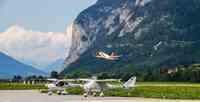 From tours of the city or hiking in the Alps to Ski Jump Arena tickets and Swarovski Crystal World